Not everything I make turns out super awesome, sadly. I have been working on this blouse thing from
9/2014 Burda Style
for the past week or so in short chunks. Trace the pattern here, cut the pieces there, sew this and that.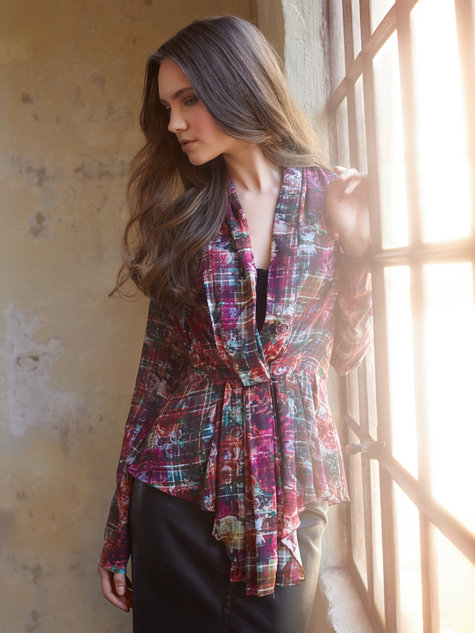 Doesn't it look lovely in the photo? It is sized for petites, so I added some length (1.5 inches above the bust and 1.5 inches right above the waist) to put it back in "normal" size and to account for my long waist. I probably could have gotten away with just 1.5 or 2 inches or maybe nothing at all! I've made three or four things from Burda Style and I can't seem to pick the correct size for me. Are the sizes consistent across the patterns?
The proportions look ridiculous on me, it is too big overall (I cut a straight size 18 which corresponds to a size 36), and I am reminded AGAIN that ruffle or pleats or fluffy bits are not for me. Looking at the photos, I added WAY too much length, shouldn't the waist be on the same level at my elbow? I feel soo ridiculous in this. I know that I could probably fix it and make it fit me, but I would never be happy with it. Off to the scrap pile it goes. I am chalking this up to learning more about what I like to wear and what I look good wearing. I did learn how to construct a cut on shawl collar and my seams/pleats matched up almost perfectly, so I have that going for me.
I did get to use my new serger for the insides! As an early Christmas present, Matthew bought me the
Juke MO564DE
and so far, I LOVE it.
You can see this shirt cut out next to the lovely new machine. I've only had it for a week and it is my first serger, so I cannot do an in depth review of it yet, but it made the insides of this blouse beautiful and is pretty easy to operate. I'm excited to use it to make Christmas presents.
I wish that everything I make turned out great, but alas, that is not how my sewing world works. For my next project, I think I'll cleanse my sewing palate with something quick and easy like a
Scout shirt
. I have some beautiful green fabric a friend gave me before she left NH that I think would make an excellent shirt.